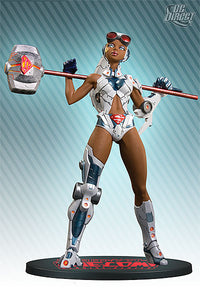 DESIGNED BY DUSTIN NGUYEN; SCULPTED BY JONATHAN MATTHEWS 

There's no messing with the newest heroine to join the AME-COMI series! 

Between her high-tech, armored costume and her trademark hammer that can replicate the powers of Superman, Natasha Jasmine Irons, daughter of the original Steel, means business! 

The limited-edition, non-articulated, approximately 8.25" high PVC statue comes with a base, is packaged in a 4-color window box with J-hook and is manufactured to order.